Chapter 1
General informations about AIESEC in Poland,  AIESEC in Rzeszow and about Poland in general.
AIESEC in Poland
AIESEC helps young people to develop and work in an international environment. Poland is one of the leading countries in the A
IESEC network, is part of AIESEC global association since 1973.
For years AIESEC in Poland has been provider of both incoming and outgoing exchanges, now we have 18 local committees in 17 cities and people like you can travel around the world, meet new friends and have great time.
AIESEC Rzeszów
Your host committee is Local Committee in Rzeszów which was created in 2009.
We host about 200 international trainees per year who participate in projects organized by AIESEC Rzeszów, e.g. AIESEC University, Enter Your Future, The Heart of Art,  International Kindergarten,  The Children's Place,  Explore Yourself.
AIESEC Rzeszów enables Polish students and alumni participate in internships in many countries such as China, India, Brazil, Vietnam, Russia and Serbia.
POLAND
Country's full name: The Republic of Poland
(Rzeczpospolita Polska)
Capital city:  Warsaw
Territory: 312,685 km2 (120,727 sqm)
Population: about 38,6 millions
Language: polish
Borders: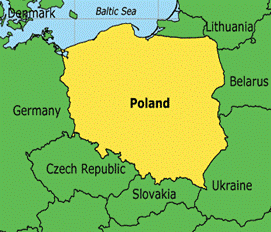 West: Germany
South: the Czech Republic and Slovakia
East: Ukraine and Belarus
North: Baltic Sea , Kaliningrad Oblast (a Russian exclave) and Lithuania
Time:
GMT/UTC plus one hour (GMT + 2 from last Sunday in March to Saturday before last Sunday in October)
http://aiesec.pl/wp-content/uploads/2017/03/Aiesec-white-blue700x100-300x43.png
0
0
aiesec
http://aiesec.pl/wp-content/uploads/2017/03/Aiesec-white-blue700x100-300x43.png
aiesec
2014-08-27 20:04:05
2016-08-18 01:38:28
Poland realities - guidebook for Exchange Participants