Opowieść o Cejlonie
Kim jestem?
Nazywam się Iza, jestem studentką ekonomii w Krakowie. Na wolontariat wyjechałam rok temu, a moim celem była Sri Lanka. Niektórzy znajomi podziwiali mnie za odwagę, inni dziwili się czemu właśnie taki kierunek wybrałam. Powodów jest kilka, po pierwsze projekt był powiązany z moją pasją czyli fotografią, po drugie zawsze mówiłam, że jak wolontariat to tylko w Azji. Po wcześniej zdanej sesji, wsiadłam do samolotu i dopiero wtedy zaczęłam się trochę denerwować. Jak to będzie, czy sobie poradzę, jakie osoby poznam i czy znajdziemy wspólny język.
Czego dotyczył mój projekt?
Promowania turystyki na Cejlonie, poprzez fotografię, montowanie filmików oraz pisanie bloga. Niektórzy mówią, że to nie jest typowy wolontariat, ale poprzez wszystkie nasze aktywności, w ciągu 6 tygodni bardzo zgłębiliśmy lankijską kulturę.
Od zwyczajów, które bywały bardzo zaskakujące, poprzez jedzenie, historię, aż do dziewiczej natury tej magicznej wyspy. Dużo podróżowaliśmy przez co mogliśmy zobaczyć jak poszczególne rejony wyspy. Znacznie się różniące pod względem kultury, ludzi ale też klimatu. Szok kulturowy był ogromny, tam nawet podróż autobusem jest nie do opisania.
Mój zespół
Trafiłam też do świetnego zespołu, który liczył 15 osób z 8 różnych krajów. Oczywiście osiem różnych narodowości w projekcie dawało się we znaki.
Kiedy mieliśmy rozwiązać jakiś konflikt, widać było, że każdy z nas miał zupełnie inne podejście i bywało ciężko, ale zawsze w końcu się udawało. Mogę śmiało potwierdzić, że znajomości z wolontariatu pozostają na długo.
Czy warto?
Polecam wolontariat każdemu bez względu na rodzaj projektu czy kierunek świata. Jestem pewna, że z każdą przygoda, która jest zaskakująca, pracochłonna, można otworzyć oczy na różne problemy, do których zbytnio nie przykładamy uwagi w codziennym pośpiechu. Sri Lanka zawsze zostanie w moim sercu, nie tylko ze względu na jej piękno i życzliwość ludzi.
Nie tylko moja pewność siebie wzrosła, ale też zaradność w rozwiązywaniu konfliktów. A nawet poprawiły się moje cechy liderskie.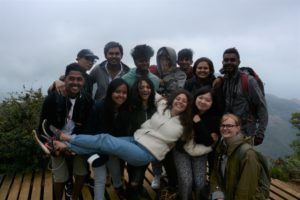 Jeśli zastanawiasz się nad wolontariatem, ale ciągle słyszysz, że jest to niebezpieczne oraz, że sobie nie poradzisz. Nie przejmuj się tylko jedź i pokaż wszystkim, ale przede wszystkim samemu sobie na co Cię stać.
Chcesz wyjechać na wolontariat? Wejdź na aiesec.pl/global-volunteer
Masz jakieś wątpliwości? Przeczytaj historię Weroniki
https://aiesec.pl/wp-content/uploads/2019/03/3.jpg
1280
960
aiesec
https://aiesec.pl/wp-content/uploads/2020/03/White-Blue-Logo-2.png
aiesec
2019-04-09 22:24:24
2019-05-14 07:41:46
Opowieść o Cejlonie