Globalny Talent
dla Twojej organizacji
Global Talent jest to program praktyk skierowanych do przesiębiorstw, które są zainteresowane możliwością pozyskania młodych talentów z różnych krajów świata.
To doświadczenie międzykulturowego wolontariatu, które pozwoli organizacjom gościć młodych ludzi z całego świata podczas projektów wpływających na społeczeństwo.
Kolory

AIESEC Blue
Web (hex): #037ef3
RGB: 3/126/243
CMYK: 98.8%/48.1 %/0/4.71%

AIESEC Blue
Web (hex): #000000
RGB: 0/0/0
CMYK: 0/0/0/100

AIESEC Blue
Web (hex): #ffffff
RGB: 255/255/255
CMYK: 0/0/0/0
Wariacje kolorystyczne
Logo w wersji czarnej i niebieskiej przeznaczone są do użycia zarówno do wydruku jak i publikacji cyfrowej.
Zasady użycia logo
Pierwsze oficjalne logo AIESEC stworzone podczas Międzynarodowego Spotkania Prezydentów AIESEC w Hong Kongu w 1990 roku musi być używane w ramach każdego produktu AIESEC. W zależności od tego która wersja wizualnie bardziej pasuje do tła, taka powinna być stosowana tak jak przedstawia to grafika.
Odstęp od krawędzi
Logo może być użyte na tle dowolnego koloru, natomiast należy stosować się do poniższych zasad odnośnie odstępu logo od krawędzi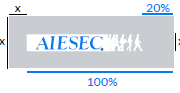 Logo pionowe
Logo może też zostać obrócone, ale tylko w następujący sposób:

Użycie logo na tle zdjęć
Logo może zostać użyte na każdym tle, należy jedynie pamiętać o odpowiednich odstępach od krawędzi oraz o tym, że nie wolno zmieniać jego transparentności (przeźroczystości).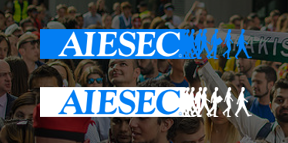 Loga oraz materiały pomocnicze dostępne są pod TYM LINKIEM